Are you looking to having a straighter smile? Invisalign® may be the perfect option for you! Invisalign® is an orthodontic treatment that uses plastic and clear aligners instead of traditional metal braces to straighten your teeth. South 40 Dental is a proud provider of Invisalign in Grande Prairie.
---
The Invisalign® Difference
Invisalign® is a new system of straightening teeth without the use of conventional braces.
A series of clear plastic aligners are utilized to create tooth movement. Invisalign® is recommended for orthodontic situations with mild to moderate spacing or crowding. They are a clear solution for patients looking to straighten their teeth without the use of braces.
 A Few Benefits of Invisalign®:
Invisalign® aligners are clear and removable compared to braces
Great for people who have active and busy lifestyles 
There are no wires or brackets to aggravate your mouth
You can view your own digital treatment plan before you begin
Aligners can be removed for easy cleaning
It's easy to floss and brush your teeth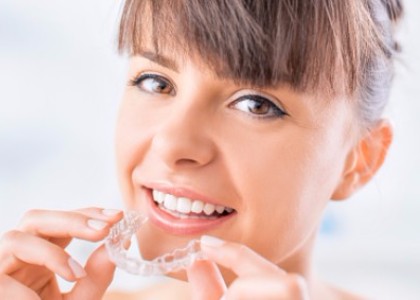 For an Invisalign consultation, contact our office today.
---